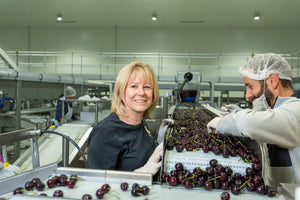 Our Packhouse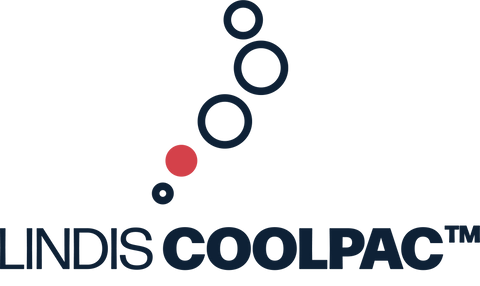 Southern Fruits International operates out of the state-of-the-art Lindis Coolpac packhouse at Tarras, Central Otago.
Our packhouse has a footprint of some 4,500 square metres and is outfitted with the world's latest grading and packing technology from TOMRA Fresh Food. This technology includes advanced sorting and grading solutions which provide accurate and stringent quality assurance measures, enabling us to deliver fully customisable packaging solutions and high-end products to the global market.
Infrastructure includes an eight-lane Compac cherry processing machine, a Cascade Singulator, Small Fruit Sorter and CURO filling and packing solutions.
The Cascade Singulator features custom-designed separators which target the best point between two cherry stems, reducing stem tears for optimal cherry separation – all while finding and advancing the next cluster on the machine.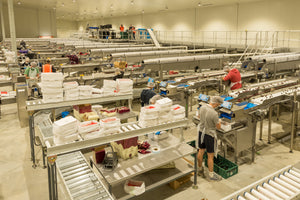 The Small Fruit Sorter (SFS) is a precision grading system with controls to support sophisticated grading criteria which exceeds market demands. It provides us with certainty across size, colour, firmness and ensures fruit is blemish-free. Every part of the SFS has been designed to be as gentle as possible on cherries as they flow across the machine.
Our CURO packing and filling solutions are capable of consistent, high-speed filling at precise weights. Installed are seven CURO2 versions and two CURO8 versions. Our total packing capability is up to 60 tonnes of cherries a day.
Once packed into bespoke luxury packaging, our cherries are exported by air, reaching their final destinations within 48 hours.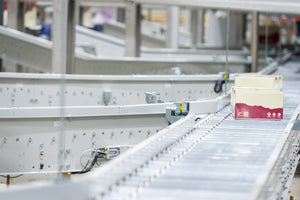 Our packhouse can accommodate approximately 70 workers during peak periods. We are proud to produce a "one touch cherry" where the cherry is touched by hand only at harvest, further underlining our commitment to food safety.
The latest in packhouse technology from software provider Radford Software is in place and integrates with field software developed by Dataphyll to provide full traceability from orchard to customer. Both New Zealand companies are leading horticultural industry innovators.
Underpinning our commitment to food safety is a separate airlock corridor where everyone entering the facility can wash and sanitise their hands.  Staff facilities include a large staff room incorporating separate male and female ablutions, laundry, sick bay, locker room and on-site office for our management and admin team.